Our name is our guarantee
Understanding and care, during your time of loss and grief
Family owned and operated since 1948.
We understand the importance of the final gift that you leave your loved one, and have the understanding and patience to support and guide you through the process. We prioritise your peace of mind and the wishes of your loved one and your family, designing and crafting the perfect memorial according to your wishes.
Hall's Memorials has been designing, crafting, and providing memorials to the Mildura community and beyond since 1948. Founded by the late Neil William Hall and then passed on to Graeme Hall in 1974, our family owned business is engrained in the local community as an important part of what is often a very difficult time.
We understand the sensitivity of working with families during this time in selecting a memorial. We take pride in helping families choose the best memorial to suit their and their loved one's wishes. We provide an extensive range of monuments including plaques, headstones, and chapels. All options can be fully customised with a personal photograph and specifically designed tribute. 
Alongside our memorials and tributes, Hall's Memorials also provide a range of other products including vases, statues, photo plaques, and pet headstones. The adornment of your loved one's memorial is equally as important to us as it is to you, and we are proud to be able to assist you in the process.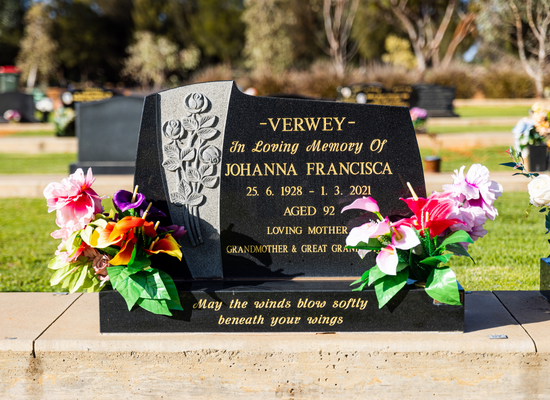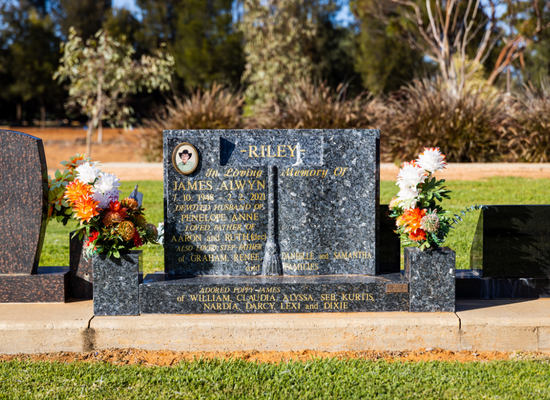 We value life and death together.
At Hall's Memorials, we value the importance of memorials and the importance of this time in peoples' lives. For this reason we are proud to uphold the standard that we do in our business, both in the crafting and design of our headstones and memorials and in our exceptional customer service. 
Death is never an easy time, but selecting a memorial is often a very important time for families and we respect this delicate process in life. Your needs, desires, budget, and final wishes for your family member are our most important priority.
Hall's  Memorials is able to accommodate the needs of all different religions, and customisation can represent all beliefs, cultures, and religions. 
Our process 
Consult
The first step in crafting a headstone for any person is a consultation with the family regarding their needs for their loved one. Our showroom in Mildura showcases a range of different headstones and memorials that can be used for inspiration and to see the many designs that we can create.
Customise
The next step, after deciding on the product, is to decide on the customisation. This involves deciding any extras, if any, the font for any text on the monument, and photo plaques. Once you have finalised customisation options, Hall's Memorials will be able to provide you with a quote for the final product and an estimated time for completion.
A high quality product.
The final step is when Hall's Memorials delivers a high quality product that expresses the true way you would like to remember your loved one. Using only top quality stone, we craft the product to your wishes. Hall's Memorials delivers the monument or headstone to the place that it will be installed, transforming it into a sacred place for you to continue to visit and remember.
Hall's Memorials provides a range of traditional headstones, chapels, plaques, and memorials, as well as many options for customisation. All of our granite and stone is sourced from Dasheng Stone and we provide only the finest quality memorials for your family member or loved one.
Single & double monuments
Halls Memorials can design, craft, and customise traditional style single and double traditional memorial monuments. Double monuments encase two burial plots that are joined side by side, but from outside appearance are joined together as one. Double monuments are often chosen when two people or family members wish to be buried side by side.
Headstones are usually designed for lawn cemeteries, but they can also be chosen in traditional cemeteries as an alternative to a full monument. Our headstones and bases can all be designed to meet the size specification of the cemetery chosen for your loved one.
Hall's Memorials provides full monuments and chapels. While single and double monuments are typically smaller than full monuments, full sized monuments usually have a large headstone and extra space for flowers. Chapels are also sometimes called canopy memorials, and offer a unique and customisable way to remember a loved one.
Hall's Memorials can add photo plaques to most memorials so that your loved one's monument is both beautiful and memorable. In addition to photo plaques, we provide a range of other products that can be used to adorn your monument or memorial including vases, flowers, statues, granite plinths, ceramics, and cleaning services.
Hall's Memorials also understands that your pet is just as much a family member as your parents, brothers, or sisters. We also provide fully customisable pet headstones and memorials so that you can continue to remember your pet in the same way you would remember any other family member. We help you design and create the perfect headstone for your beloved companion.
Hall's Memorials provides a range of repair, restoration, and maintenance services for already existing headstones and memorials. We are able to clean sites of overgrowth and litter, fix broken or chipped stone, and also apply additional inscriptions on any kind of headstone. 
Our team will bring the site back to its original beauty, allowing the monument to last for many years to come.
Locations that we service
Hall's Memorials has been servicing the Mildura area since 1948, including customers in the surrounding towns. We encourage any customers in Victoria to reach out, but especially those in the Mildura area. Our headstones and memorials are made to meet the specifications of many cemeteries in the area, including all of the cemeteries in the Mildura Cemeteries Trust such as Murray Pines Cemetery and Nichols Point Cemetery.
We understand how challenging this time is for families, and how important it is to receive professionalism, care, and understanding when selecting a headstone or memorial. Our team is highly professional and brings the utmost respect and patience. 
Selecting a headstone can be a very special time as a family comes together to choose the way they would like to represent their loved one. As we guide you through this process, we maintain our reverence and uphold the highest standards.
The team at Halls Memorials have been extremely tentative and were swift to react and accommodate our requirements. Cassandra and the team are absolutely on top of every and delivered an outstanding result for our family. We can't thank you enough.